Deferred Payments. Buy now, pay in 30 days, if you don't return it. More information
Buy now, pay later - 4 steps
When choosing a payment method, select PayPo

PayPo will pay your bill in the store.
On the PayPo website, verify your information and enter your social security number.
After receiving your purchase, you decide what suits you and what doesn't. You can return part or all of your order - then the amount payable to PayPo will also be reduced.
Within 30 days of purchase, you pay PayPo for your purchases at no additional cost. If you wish, you spread your payment over installments.
Easy return of products within

14

days from the date of purchase without giving reasons
Free delivery from

40,00 zł
Delikatne, ekologiczne mydło roślinne w płynie o subtelnym, świeżym zapachu. Odpowiednie do mycia rąk i całego ciała. Wyprodukowane z naturalnych olejów roślinnych i olejków eterycznych, pochodzących w 100% z certyfikowanych upraw ekologicznych. Właściwości pielęgnacyjne mydła zostały wzbogacone bio-wyciągiem z nagietka - rośliny, która rośnie zawsze zwrócona w stronę słońca. Moc słońca sprawia, że w nagietku aktywizują się lecznicze właściwości przeciwzapalne i wspomagające odnowę komórkową.
Pojemność: 300 ml
Skład: woda, mydło potasowe z oliwy z oliwek*, mydło potasowe z oleju kokosowego*, poliglukozyd alkilowy C8-C16 (glukozyd kokosowy, glukozyd laurylowy), alkohol denat., gliceryna*, cytrynian sodu/potasu, wyciąg z nagietka lekarskiego*, zapach: olejek z kory cedru atlantyckiego* (zawiera cytral*), olejek z werbeny egzotycznej* (zawiera cytral*, limonen*, linalol*), olejek z pomarańczy chińskiej * (zawiera limonen*), olejek z owoców/liści pomarańczy gorzkiej* (zawiera linalol*), olejek z kwiatów pelargonii pachnącej* (zawiera geraniol*, cytronelol*), wyciąg z żywicy Dipterocarpus Turbinatus, dodatki balsamiczne* (wyciąg z liści wawrzynu szlachetnego, guma z kadzidłowca, złoto, mirra, oliwa z oliwek, jemioła pospolita, róża damasceńska).
Skład INCI: Aqua, Potassium Olivate*, Potassium Cocoate*, Alkylpolyglucoside C8–C16 (Coco Glucoside, Lauryl Glucoside), Alcohol denat., Glycerin*, Sodium / Potassium Citrate, Calendula Officinalis Extract*, Parfum*: Cedrus Atlantica Bark Oil*, Litsea Cubeba Oil* (contains Citral*, Limonene*, Linalool*), Citrus Sinensis Oil* (contains Limonene*), Citrus Aurantium Amara Fruit/Leaf Oil* (contains Linalool*), Pelargonium Graveoleus Flower Oil* (contains Geraniol*, Citronellol*), Dipterocarpus Turbinatus Balm Extract, balsamic additives* (Laurus Nobilis Leaf Extract, Boswellia Serrata Gum, Gold, Commiphora Myrrha, Olea Europaea Oil, Viscum Album, Rosa Damascena).
* z certyfikowanych upraw ekologicznych
Produkt certyfikowany przez: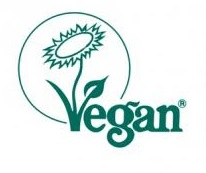 Informacje dodatkowe: Certyfikowany kosmetyk ekologiczny (NATURAL COSMETICS Organic Quality, CSE). Nie zawiera surowców pochodzenia petrochemicznego, syntetycznych barwników, konserwantów czy środków zapachowych, chloru, fosforanów, wybielaczy optycznych czy składników pochodzących z martwych zwierząt. Produkt wegański.
Producent: Sonett OHG, Niemcy
VEGAN
Produkt wegański - bez składników pochodzenia zwierzęcego.