AYURDENT mild Ajurwedyjska pasta do zębów łagodna
Kompozycja 21 wyciągów i olejków z himalajskich ziół, pozyskanych i dobranych zgodnie z nauką medycyny ajurwedyjskiej

Deferred Payments. Buy now, pay in 30 days, if you don't return it. More information
Buy now, pay later - 4 steps
When choosing a payment method, select PayPo

PayPo will pay your bill in the store.
On the PayPo website, verify your information and enter your social security number.
After receiving your purchase, you decide what suits you and what doesn't. You can return part or all of your order - then the amount payable to PayPo will also be reduced.
Within 30 days of purchase, you pay PayPo for your purchases at no additional cost. If you wish, you spread your payment over installments.
Easy return of products within

14

days from the date of purchase without giving reasons
Free delivery from

40,00 zł
Pasta o łagodnym smaku, zawierająca wyłącznie najlepsze, naturalne składniki, które zapewniają optymalną higienę i pielęgnację jamy ustnej. Kompozycja 21 wyciągów z himalajskich ziół, pozyskiwanych i dobranych zgodnie z nauką medycyny ajurwedyjskiej*, wzmacnia tkanki zębów i dziąseł oraz łagodzi podrażnienia. Delikatne drobinki mineralne dokładnie czyszczą powierzchnię zębów i usuwają kamień nazębny. Wyciągi z drzewa neem, olejek z cytryny, eukaliptusa i goździków, imbir, pieprz i olejek z mięty zielonej nadają paście przyjemny, odświeżający smak. Receptura pasty Maharishi Ayurveda łączy moc natury z inteligencją roślin.
Pasta jest skoncentrowana i należy ją stosować oszczędnie. Odpowiednia dla całej rodziny.
Nie zawiera glutenu, fluoru, ani syntetycznych środków konserwujących czy pieniących. 

* Dosłowne tłumaczenie terminu Ajurweda to "wiedza o życiu" (ayus = wiedza, veda = życie). Ajurweda obejmuje wszystkie aspekty życia, postrzegając człowieka jako jedność ciała, duszy i umysłu. Wiedza ta oparta jest na założeniu, że świat zbudowany jest z pięciu pierwiastków (ziemia, woda, ogień, powietrze i eter) oraz – odpowiednio - trzech sił (dosze), regulujących procesy zachodzące w ludzkim ciele i umyśle: Vata (powietrze i eter), Pitta (ogień i woda), Kapha (ziemia i woda). Człowiek jest zdrowy, gdy między tymi siłami panuje równowaga.
Pojemność: 75 ml
Skład: dwuwodny dwuwodorofosforan wapnia, sorbitol, woda, gliceryna, krzemionka, węglan wapnia, wyciąg z alg Chondrus Crispus, krzemian sodu, olejek z mięty zielonej, mentol, wyciąg z dębu galasowego, wyciąg z owoców migdałecznika chebułowca, wyciąg z owoców bibhitaki, wyciąg z owoców amli, wyciąg z wadźradanti, wyciąg z owoców pieprzu długiego, wyciąg z korzenia lukrecji, wyciąg z owoców pieprzu długiego, wyciąg z kory orzechowca wschodnioindyjskiego, olejek z mięty pieprzowej, wyciąg z korzenia imbiru, wyciąg z kory drzewa bakul, wyciąg z korzenia drzewa arakowego, wyciąg z kory miodli indyjskiej (neem), kora drzewa symplocos racemosa, wyciąg z kory akacji katechu, olejek ze skórki cytryny, olejek z liści eukaliptusa, olejek z kwiatów goździkowca wonnego, linalol*, cytral*, limonen*.
Skład INCI: Dicalcium Phosphate Dihydrate, Sorbitol, Aqua, Glycerin, Silica, Calcium Carbonate, Chondrus Crispus, Sodium Silicate, Mentha Spicata Herb Oil, Menthol, Quercus Infectoria Gall Extract, Terminalia Chebula Fruit Extract, Terminalia Belerica Fruit Extract, Emblica Officinalis Fruit Extract, Barleria Prionitis Plant Extract, Piper Longum Fruit Extract, Glycyrrhiza Glabra Root Extract, Albizzia Lebbeck Bark Extract, Mentha Piperita Oil, Zingiber Officinale Root Extract, Mimusops Elengi Bark Extract, Salvadora Persica Root Extract, Azadirachta Indica Bark Extract, Symplocos Racemosa Bark Extract, Acacia Catechu Bark Extract, Citrus Medica Limonum Peel Oil, Eucalyptus Globulus Leaf Oil, Eugenia Caryophyllus Flower Oil, Linalool*, Citral*, Limonene*.
* naturalne olejki eteryczne
Produkt certyfikowany przez: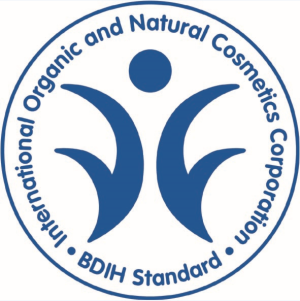 Informacje dodatkowe: Certyfikowany produkt ekologiczny (BDIH). Nie zawiera olejów mineralnych, syntetycznych substancji barwiących, zapachowych czy konserwujących. Nie zawiera fluoru, wypełniaczy czy środków pieniących (tensydów). Produkt wegański.
Dystrybucja: Maharishi Ayrveda Products Europe B.V., Holandia. Wyprodukowano w Indiach.